Summary
About
All hub content  in onAir hubs is free to the public. Hub ontent is under the Creative Commons Attribution-NonCommercial license which permits content sharing and adaptation by nonprofit organizations as long as proper attribution is given to its author(s) and is used for non-commercial purposes. Content and moderation guidelines reinforce our commitment to fact-based, comprehensive content and civil and honest discourse.
To participate in aircast and post discussions, email usdemocracy@onair.cc and include your first name last name, and zipcode. Your real name and any other profile information will not be displayed unless you choose to do so. Your personal information is not shared with any other website or organization.
Hub membership will enable you to:
Participate in issue and interview aircasts (student-led livestreamed discussions);
Interact directly with post authors and curators giving them feedback, content suggestions, and asking questions;
Ask questions, make suggestions, and give endorsement to representatives
State Representatives
Alaska is located in the Western region of the USA with Juneau as its capital.  Mike Dunleavy (R) is Governor.
The Alaska legislature has 20 Senate members and 40 House members.
Office
Name
Party
Assumed office
Next election
Term limited
Maximum term length
Governor

Mike Dunleavy

Republican

December 3, 2018

2022
No
Two consecutive terms
Lieutenant Governor*

Kevin Meyer

Republican

December 3, 2018

2022
No (retiring)
Two consecutive terms
Governor Mike Dunleavy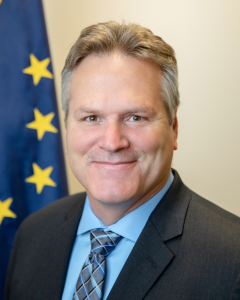 Current Position: Governor since 2018
Affiliation: Republican
Alaska onAir Post
Michael James Dunleavy (born May 5, 1961) is an American educator and politician serving as the 12th governor of Alaska. Dunleavy was a Republican member of the Alaska Senate from 2013 to 2018.
He defeated former Democratic United States senator Mark Begich in the 2018 gubernatorial election after incumbent governor Bill Walker dropped out of the race.
US Senators
Senator Lisa Murkowski
Senator Dan Sullivan
US House Member
Don Young
Wikipedia